Stramonium – With an Introduction to Analysis Using Cycles and Segments by Paul Herscu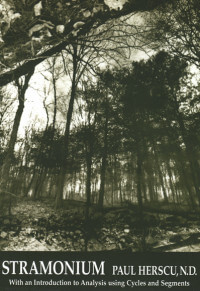 Please note: this is a digital product only available in RadarOpus.
Stramonium is a book written by Paul Herscu about the homeopathic remedy derived from the plant Datura stramonium. The book introduces the author's method of analyzing cases using cycles and segments, and provides a detailed description of Stramonium. It also covers the use of Stramonium for children with autistic symptoms. The book was published in 1996 by New England School of Homeopathy and has 220 pages. It has received positive reviews from customers and experts in homeopathy.
Key feature:
You can learn about the homeopathic remedy Stramonium, which is useful for many serious ailments such as PTSD, nightmares, terror, ADHD and autism.
You can understand the author's method of analyzing cases using cycles and segments, which is a way of finding the core pattern of a remedy and a patient.
You can get a fuller comprehensive knowledge of Stramonium, with detailed descriptions of its symptoms, modalities, etiology, differential diagnosis and case examples.
You can also benefit from the author's insights on treating people over time and the hierarchy of symptoms, which are important concepts for homeopathic practice.
Frequently Asked Questions
When will I receive access after placing an order?
Generally, within 24-48 business hours. Orders are processed manually and it takes us this amount of time for processing.
How do I add my new books/features to my program?
Have another question about this product?